We firmly believe in the fact that the inhalation preparation is and will be the mainstream product in the market.
Our products will be approved in China and EU from year 2021 and on, and with a global sell, we will be a leading company in inhalation products and eyedrops soon.
Nanjing Aureole Pharmaceutical Approved for Marketing the First Procaterol Hydrochloride Inhalation Solution in China
2023-07-05
Clicks:54
From:
On June 30, 2023, our product Procaterol Hydrochloride Inhalation Solution was approved for marketing (approval No.: H20233837), making it the first of this kind to be launched domestically.
Procaterol hydrochloride is a β2 agonist with high selectivity for β2 adrenergic receptors in bronchial smooth muscle, and is used for the treatment of bronchial asthma, chronic bronchitis, and chronic obstructive pulmonary disease, and only oral formulations and dry powder inhaler formulations are commercially available. The nebulized inhalation solution developed by us follows a direct drug delivery approach using the respiratory tract and lungs as target organs, which is ideal for clinical treatment of respiratory diseases. It features the advantages of rapid onset of action, good efficacy, few systemic adverse reactions, and no need for deliberate patient cooperation. It thus can provide a more effective and safe treatment solution for patients with asthma and chronic obstructive pulmonary disease.
Aureole Pharmaceutical has been focusing on the research and development of inhaler formulations to continuously improve the product quality and technology. This approval marks another vital milestone for Aureole Pharmaceutical in the field of inhaler formulations. In the future, Aureole Pharmaceutical will continue to hammer at the inhaler formulation market, to enhance and promote the research and development, thereby contributing to the development of China's pharmaceutical industry.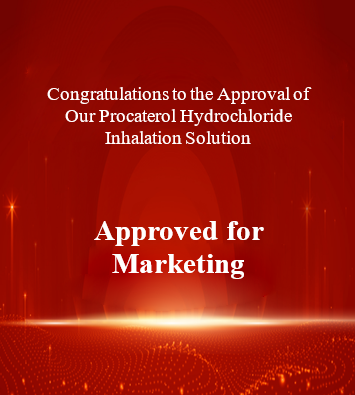 Back